Overview
BLUE bean is IEEE 802.11b/g/n/a/ac Wave2 dual-band wireless LAN and Bluetooth 4.2 USB module optimised for small size and low power consumption.
It is based on Qualcomm QCA9377-7 chipset. Has an integrated dual-band (2.4 and 5 GHz) 1x1 802.11ac Wave2 WiFi (supporting MU-MIMO) and Bluetooth® 4.2 transceivers and combined in to very small form factor (17 x 12 mm with RF connector and 24 x 12mm with integrated antenna).
The radio module supports advanced power saving techniques. Bluetooth supports both Class1 and Class2 transmissions and advanced coexistence mechanisms allow it to work seamlessly with Wi-Fi ensuring good quality and high performance.
BLUE bean software drivers are available for Linux, Windows 10 and Android operating systems.
Specs
Wi-Fi radio

802.11a/b/g/n/ac Wave2, 2.5 and 5 GHz, 1x1 SiSo, 433 Mbps data-rate
Output power

Up to 20 dBm
Channel sizes

20/ 40/ 80 MHz
Advanced features

STBC, MU-MIMO, transmit beam-forming
BT radio

Bluetooth v4.2 + HS backwards compatible with v1.x and v2.x
Product versions

BLUE bean A – integrated ceramic omni-directional dual-band antenna, BLUE bean C – connetorized version for external antenna
Temperature range

-40 to +85 C°
Size

17 x 12 mm with connector and 24 x 12 mm with antenna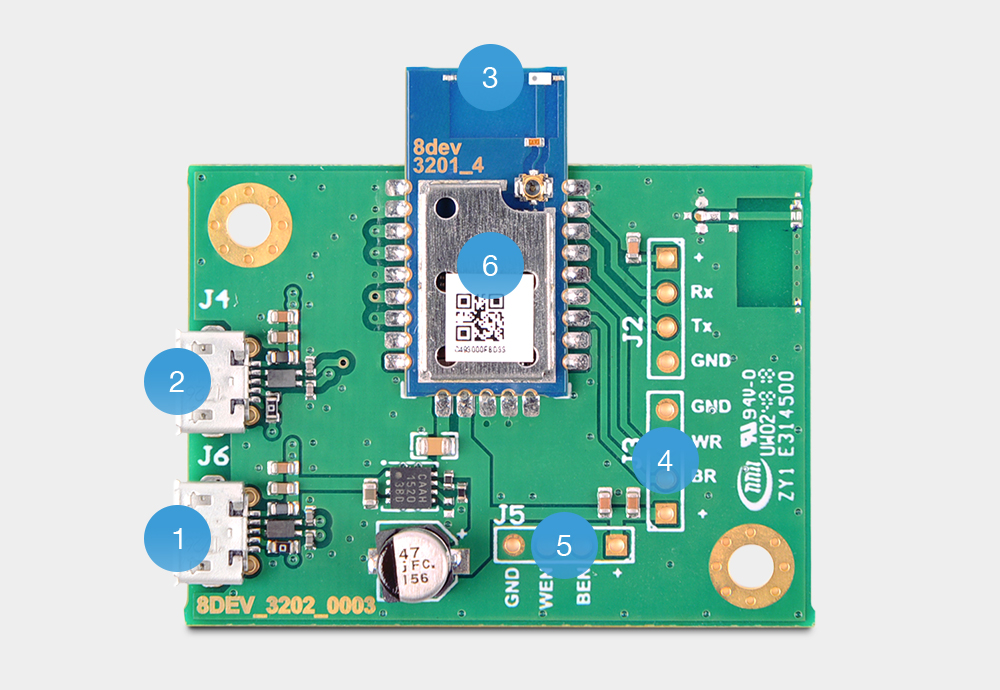 Development board details
1 - USB Wi-Fi
2 - USB Bluetooth
3 - Dual-band ceramic antenna
4 - Turn off WLAN and Bluetooth
5 - Turn on WLAN and Bluetooth
6 - BLUE bean module