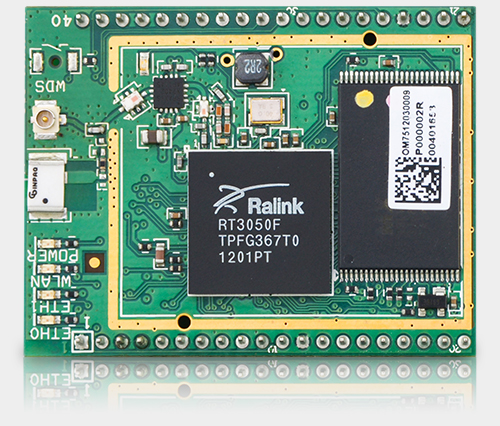 Carambola
(discontinued)
Carambola is tiny, based on Ralink RT3050 SoC, Wi-Fi enabled Linux module, featuring the lowest power consumption in the industry.
Overview
8devices Carambola is a tiny 35x45 mm, low cost, open-source and Linux friendly, easy embeddable module which allows adding extensive wireless and wired networking capabilities to any device around us in the upcoming era of the Internet things.
Module can be supplied with an open source design development board which provides easy access to all Carambola Core functionality and can be a good starting point for quick time to market product development. Development board schematics, layout and BOM are published on downloads section.
Specs
Memory

8 MB Flash and 32 MB RAM
Wireless standard

802.11 bgn
Antenna (port)

Built in chip antenna and U.FL connector option
Power supply

3.3 V, power consumption 1.5 W
Available interfaces

USB host/slave, RS232 DB9 female, 2 x Ethernet, I2C, SPI, I2S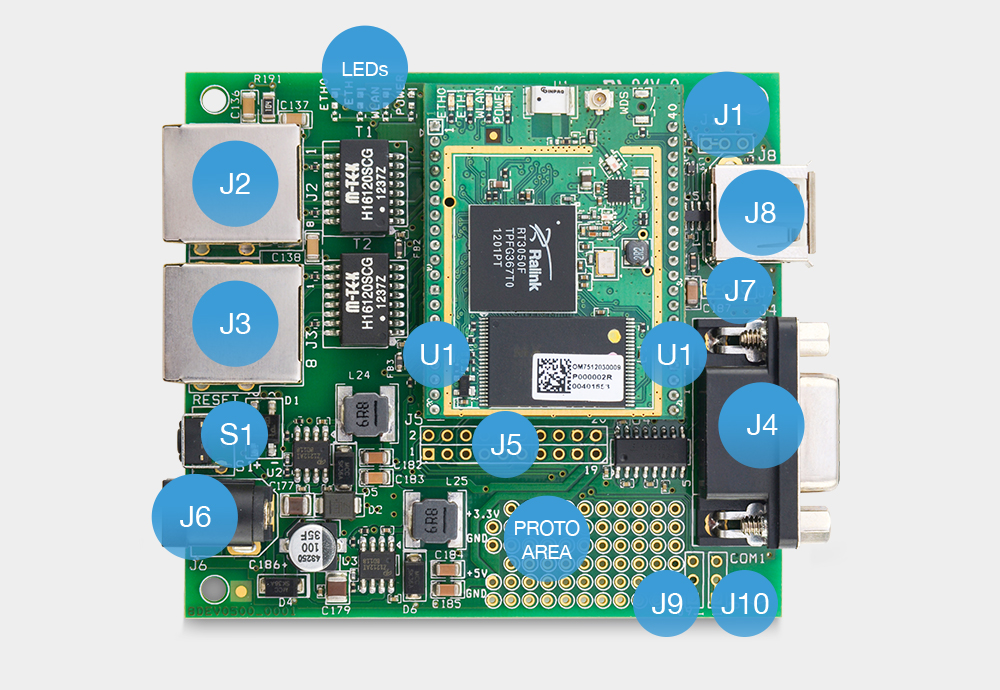 Development board details
J1 - USB HOST/SLAVE mode selection (1-2 USB host, 2-3 USB slave mode)
J2 - ETH0 LAN port with polarity-agnostic 9-24V passive PoE on 5,6 and 7,8 RJ45 pins
J3 - ETH1 LAN port
J4 - RS232 DB9 female
J5 - 2.54mm pitch pin header for easy accessing, I2C, SPI, GPIO, I2S, serial ports
J6 - 7. Power jack 9-24V DC
J7 - enable/disable USB 5V power (1-2 enable USB power)
J8 - 1. USB type A socket
J9 - serial port RX selection for DB9 (1-2 ttyS0, 2-3 ttyS1)
J10 - serial port TX selection for DB9 (1-2 ttyS0, 2-3 ttyS1)
S1 - Hardware reset button
U1 - 2x20 2mm pitch female headers for Carambola module
PROTO AREA - 6x10 holes 2.54mm pitch prototyping area
LEDs - Optional LED's for power, 2x LAN and WLAN activity