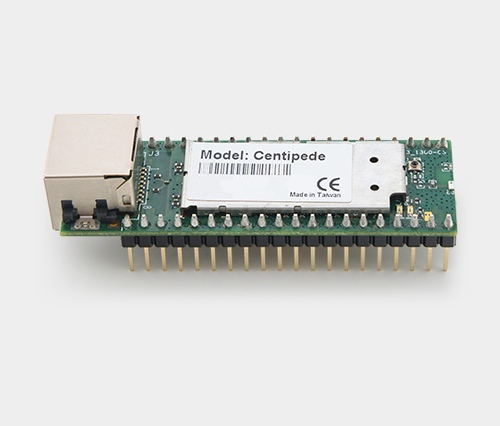 Centipede
A tiny (22 by 60 mm) QCA AR9331 chipset based platform with and integrated 100 Base-T Ethernet interface and 3 dBi omni-directional ceramic chip antenna.
Buy
Overview
Centipede is QCA AR9331 SoC based DIP platform with an integrated 2.4 GHz 802.11N (1x1) radio. Its tiny form factor (22 x 60 mm), integrated RJ-45 and on-board omni-directional chip antenna and instant ability to prototype on a breadboard allows easy integration into any hardware design with a quick time to market approach. Centipede is running OpenWRT Linux. The sources and all necessary patches are available on github.
There is feature of optional PoE adding DC/DC converter to 5V on the mainboard or small extension module and feeding back to the Centipede.
Specs
Memory

16 MB Flash and 64 MB DDR2 RAM
Wireless standard

802.11 bgn
Antenna

3 dBi ceramic chip antenna
Available interfaces

1 x Ethernet, USB host/slave, serial port, i2S, SPDIF, SLIC, 24 x GPIO